The development of Galactic Era is going ahead full steam.
Rules
We are currently on version number 1.29 of the rules (yes, that's the 29th version). The core rules are stable now and we are focusing on fine-tuning and balancing the various domination cards, races/groups and technology effects.
Introduction Aides
We are also thinking of how the game can be introduced to new players more easily. The possibilities are an introductory game version, example game turns, or tutorial videos. If you have any ideas or preferences how this could be done please tell me (see also the feedback page).
Artwork
The artwork for all the races is almost done now and we will begin soon with the graphical design. The goal is have a prototype that looks close to the final version ready for the UK Games Expo at the end of May. To see the artwork for the races and groups, please visit this page.
Video
Work on the Kickstarter video has also begun. We have made a screenplay and are currently working on the storyboard. In the video I will also explain my motivations for running this project. We are also planning an additional video explaining the various sources for the background story. You will find out why and how the game got to this background story.
Production
I also already have a quote from a Polish manufacturer, so I approximately know how much I need to raise in the Kickstarter campaign. I will be getting another quote from a Chinese manufacturer for a comparison though.
The spaceship model I am planning to use is also ready. I made an enlarged version of the spaceship model for presentation purposes. In the game these models will be 2.5cm long. The model has a slightly wider edge at the bottom than in the image it is based upon. This is to make sure the model maintains a stable upright position.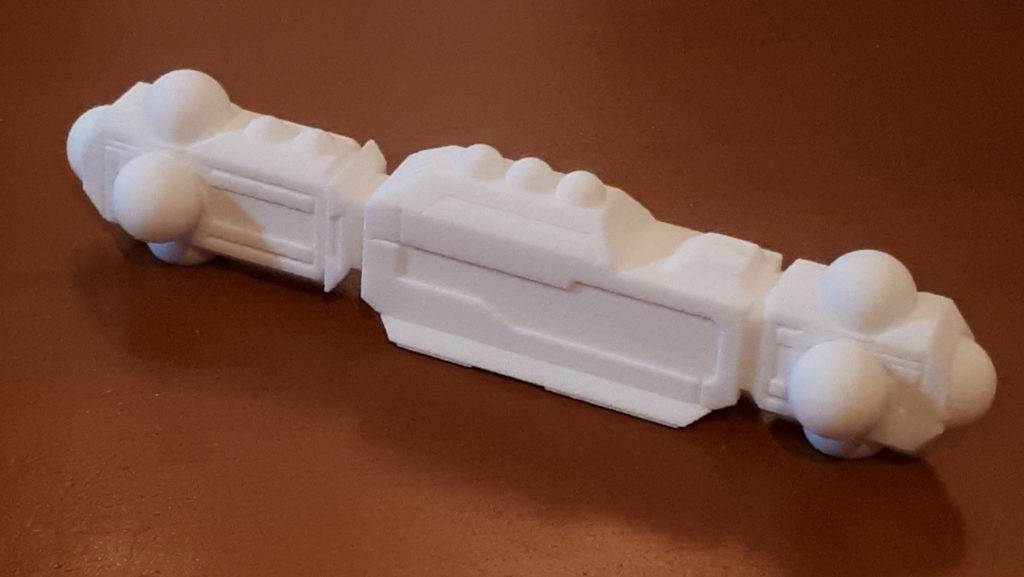 Website
The website is pretty much finished and I am looking for some feedback. Please visit the feedback page and give me your opinion on the look and feel of the website. Also please mention any information you think is missing on the website.
https://galacticera.net/feedback/
In case you don't know already, the website now lists all the conventions which I will be attending to demo the game under the "Playtest" page. If you come to one of these you can play the game with me there.
https://galacticera.net/playtest/
friendly regards,
Channing Jones
(Seajay Games)