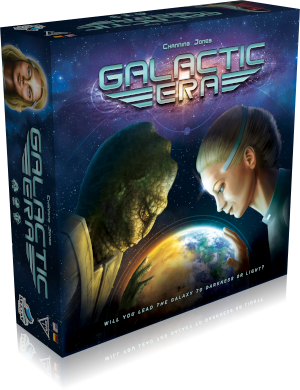 Galactic Era is an epic space civilization board game about exploration, expansion and combat. It is a unique, holistic game design with great strategic depth, yet also highly thematic.
The most innovative feature of the game is that you can choose an alignment for your faction. You can play as the "dark" or the "light" side with the appropriate consequences. You can switch your alignment during the game, too.
Also the amount of luck involved in this game is very low. No dice are used for combat.
The game also has technology trading, which is unique to this genre.
The game is for 1-6 players, ages 14 and up. Playing time is about 3 hours.
A Kickstarter campaign was successfully completed and delivered. The game is now available in retail. If you wish to be notified about the latest developments please signup for our newsletter.
Follow the links below for more details:
Introduction (story, overview, features)
Star People Guides (details for each faction in the game)
Advanced Game (rules, strategy, expansions)
Background (detailed background stories)