We are ramping up our efforts for the Kickstarter relaunch on September 22. I started an ambitious Facebook advertising campaign a few days ago. We are also preparing some exciting stretch goals for the campaign.
Preview of Kickstarter Page
You can preview the Kickstarter page here:
https://www.kickstarter.com/projects/seajaygames/1878422299?ref=awynkv&token=ba79f4a5
Any comments or feedback are welcome!
PBF Solo Demo Game
I will be hosting a solo demo game of Galactic Era playing by forum on BGG. The special idea is that YOU as reader of that thread can participate in this game! At every turn or decision point I will ask or poll for what to do next. I will follow the majority decision of the voters (casting the deciding vote on a tie).
Follow this thread on BGG:
https://boardgamegeek.com/thread/2491831/pbf-demo-game-2-solo-variant
SPIEL.digital
We are also planning to have a presence at the digital Essen convention this year, called SPIEL.digital. This will include videos and livestreams. In fact, this will be part of the Kickstarter campaign, since the last days of the campaign will be exactly during this time (ending October 25).
Artwork Progress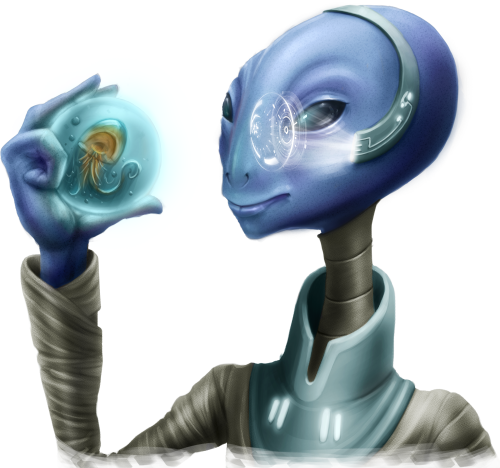 The Genetic Farmers are your friendly trading partner in the solo variant. They peacefully travel throughout the galaxy collecting genetic samples.